Home > Sevice > Service Details
Training on Protection System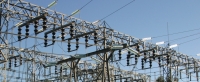 Training on Protection System
NS Engineers provides various training on protection system. We have designed different courses like Testing on Power System Equipments, Operation and Maintenance of substation, Power Management System- Communication & SCADA, Distribution Protection IED Training SCHNEIDER, Power System Protection.
Our courses for training are designed for experience professionals working in industries, graduate trainees or Engineering students.Our trainer will give theoretical as well as practical training which will be facilitating. Our Trainers are experience engineers and working in the power system field for more than 10 years.
Contact with us for more details
We provides 24/7 hours to support.